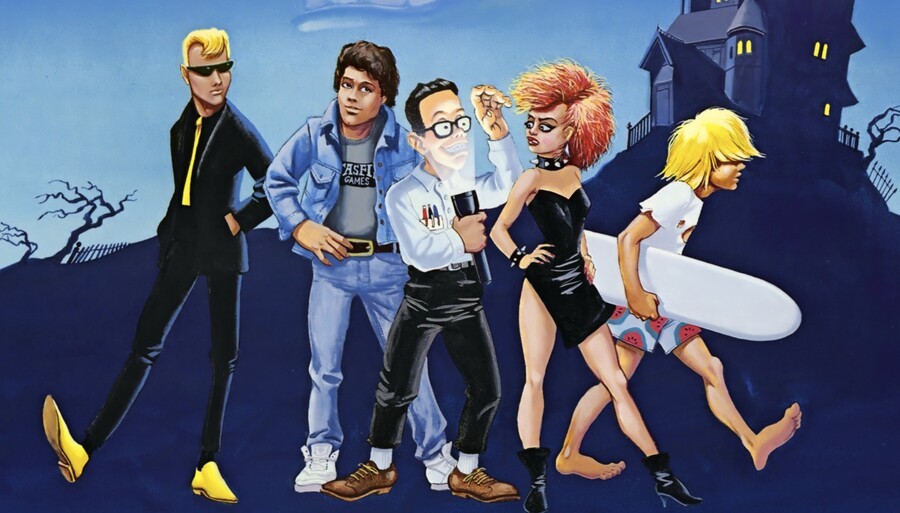 Lucasfilm Games is going through a bit of a renaissance of late. After its acquisition by Disney, the company was focused primarily on licensing and support for EA's Star Wars games, but recently it seems intent on reestablishing itself place in the gaming space, greenlighting various projects, from Star Wars games to Bethesda's Indiana Jones title, and of course, Ron Gilbert's long-awaited Return to the Monkey Island.
Not content with bringing back just one of his classic point-and-click adventures, though, Gilbert has been sending his followers into fits of excitement over on Twitter, teasing a potential return to his 1987 graphic adventure Maniac Mansion – a game that followed a group of youths who must enter the home of the brainwashed Edison family to defeat an evil professor and rescue their kidnapped friend.
In a message to David Fox, another Lucasfilm Games' veteran who worked on games like Zak McKraken and the Alien Mindbenders and Indiana Jones and the Last Crusade: The Graphic Adventure, Gilbert said, "It would be fun to do a Maniac Mansion remaster that was the same story and setting but 50% new puzzles and maybe a new playable character. You in @DavidBFox?"
To which, Fox replied, "Absolutely! Should only take a couple of months."
Of course, this isn't confirmation that anything is actually in the works, but it's encouraging to think Gilbert is still thinking of the game all these years later. And it would make sense given Lucasfilm Games' recent push to honour its legacy for it to pursue Maniac Mansion next, after Terrible Toybox has finished with the latest Monkey Island game.
This is not the first time Gilbert has teased going back to Manic Mansion. In March 2011, Gilbert told a room of people at the Game Developer's Conference in San Francisco (as Eurogamer reported at the time):
I would love for them to re-release Maniac Mansion the same way they did the Monkey Island games. I think that would be really neat. I've often thought it would be fun to go through the game and fix a lot of the problems I mentioned and get the puzzle structure more like we did in Monkey Island.
For the moment, Gilbert refers to this idea as simply "a brain-fart", but it would be cool to see it come to life. Maniac Mansion was a historic game, but it isn't necessarily as welcoming as its sequel Day of the Tentacle (produced without Gilbert's involvement). It would be great to see the game get some much-needed attention to reintroduce it to a whole new audience, and give old fans a reason to revisit.
[source twitter.com]